Teardrop Flags
Teardrop flags have a simple yet effective design and low cost which makes them one of the easiest marketing tools!
Teardrop Flags Design:
Teardrop flags are made of a weather-proof polyester with the option of having it coated with a lamination giving it a sheen. These flags are made to withstand sun, wind, rain, and snow for a long time. Teardrop flags can be made out of any color, but they are most often made with bright, eye-catching colors to maximize on their attention-grabbing potential. Taller teardrop flags with obviously get more attention. However, smaller teardrop flags work as a great addition to other outdoor marketing products by complimenting business signs and promotional banners without competing or blocking the view of the storefront.  Teardrop flags simple and sleek design will make your message stand out.  Our stock teardrop flags can be rented with stand messages, like "Super Sale", "Mega Sale", and "Grand Opening".  We also offer custom teardrop flags!
Teardrop Flags Installation:
The teardrop flags installation process goes hand and hand with its design, simple.  All these flags need is a pole to hold them so that they can catch the wind.  The most common, and sturdy, support and grounding option is using a spike and pushing it into ground.  A less common support option is using an angled bracket on hard surfaces such as gravel or asphalt. This option can be made almost as sturdy by putting extra weight on top of the bracket. These grounding options makes placing teardrop flags quick and easy and you can do it just about anywhere.
Interested in Teardrop Flags? Use the contact form below to contact one of our sales representatives.
Comments or questions are welcome.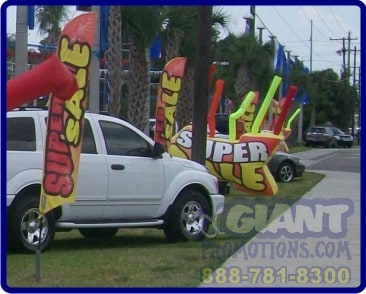 How To Get Traffic to Your Business Using Teardrops Flags
One of the biggest challenges that businesses face is how to draw tourists to them for increased sales. Local advertising takes care of local customers for the most part, but finding a way to draw new people and tourists is a challenge.
The majority of people who travel do so by automobile; tourists either use their own vehicle or rent a car. The use of recreation vehicles and buses to travel is also common. The one thing that binds all this traffic together is, all this adds up to making teardrop flags an effective way to advertise your business to out-of-towners, who normally would not realize that your business exists. These flags are attention-getting and use movement and bright colors and graphics to catch the eye of the motorist who is passing by. Using teardrop flags, which come in many versions that will suit any business, adds up to an effective outdoor advertising campaign.
Teardrop Flags Advantages:
Moving flags are more likely to be spotted, even from great distances!
Colorful flags with custom graphics target your audience
Easy to install in minutes
Low cost means many flags can be used together!
Groups of flags can be configured to make a "path to your doorstep"
Have a variety of flags and keep your look fresh and updated on a regular basis!
Teardrop flags have a unique curved design that makes graphics easy to read. This makes these types of flags perfect to catch the eye of the passing driver in a quick flash, so that tourists and other passersby will see what you have to offer in the blink of an eye. You can pull in that auto and foot traffic much more easily using teardrop flags, and at a much lower cost than traditional signs.
DELIVERY and INSTALLATION: Our direct service areas cover a portion of Central and North Florida. For locations not located in our delivery areas, we offer a nationwide drop-ship program.