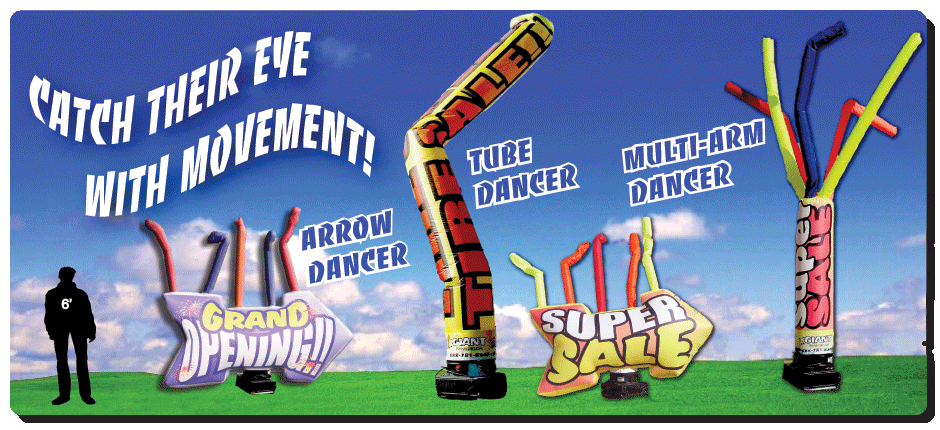 Air Dancers

From wacky men to five arm dancing arrows, we have it all.  Their waving and twisting in the wind make us all look at what they are advertising. benefits include; easy to install, safe to operate, portable, compact to store, colorful, vibrant and cost effective; air dancing inflatables are close to the best bang for the marketing dollar.
These advertising inflatables can be used for any event, grand opening, sale, or promotion. Air dancer designs range from long skinny tubes, arrows, and tube men – to product replicas. Choose from our stock air inflatable designs, or give us your idea and we can create the custom air dancing inflatable you are looking for. (We also offer complete sale in a box kits that might help you out as well!)
We know that advertising dollars are very precious to your business's success. That's why we offer full color air dancers for rent or purchase! Our selection of Arrow Dancers, Tube Dancers and Multi-Arm Dancers will bring your Grand Opening or Super Sale to life with motion! Even better, make your business a local landmark, we offer air dancing inflatables for sale for you to use them again and again!
Our durable nylon dancers are constructed here in the United States. Unlike some manufacturers who sew or glue your letters onto a heavy fabric, we print directly onto the rip stop fabric to improve the movement and longevity of the air dancing inflatables.
Looks are everything when you are trying to attract a passerby. Our staff of graphic designers will work with you to create a custom design that your customers will remember. 
Air Dancers Rent or Air Dancers for Sale
our dancing inflatables are available for rent or for sale, ask for air dancer pricing today by calling 1-888-781-8300.
Benefits of Air Dancers:
Eye catching motion attracts attention
Super easy to install and use…they set up in minutes
Transportation is a breeze…they are lightweight and compact
Great for use in small areas
Highly visible
Made of heavy duty materials to withstand the elements
Stock or custom full color designs available
Air Dancer Specs:
Material: 500D Polyester w/optional lamination
Fan: 18″ multi speed motor
Interested in Air Dancers? Use the contact form below to contact one of our sales representatives.
| | |
| --- | --- |
|   |   |
| Multi Arm Tower Dancer | Arrow Air Dancer |
Grand Opening Arrow
Air Dancer

Green Bullistic Sale Arrow Air Dancer

Hand Stand Dual Fan
Air Dancer
Custom Multi-Arm Tower
Air Dancer

Spectacular Savings Sale Air Dancer

Air Dancers and
Feather Flags Package

 
Super Sale Multi-Arm Tower Air Dancer and Tent

Tire Sale
Tube Dancer

Super Sale
Arrow Dancer and Flags

 
| | | |
| --- | --- | --- |
|   | |   |
|   | Custom Printed Tube Dancers |   |
Delivery and Installation: Our direct service areas cover a portion of Central and North Florida. For locations not located in our delivery areas, we offer a nationwide drop-ship program.