Giant Inflatable Advertising Balloons and Rentals
Giant Inflatable Advertising Balloons make a grand impression on the people passing your location. They make great landmarks, and have shown to increase walk-in traffic by up to 50%, and are very cost effective. A one month rental is less than the cost to run a ONE DAY ad in most newspapers. Multiply the amount of people passing your location every day by 30 days, and you get serious marketing exposure for a great price. You will love all the benefits that your Giant inflatable advertising balloon brings to the table. Advertising balloon rentals are a great marketing approach.
Benefits of Giant Inflatable Advertising Balloons:
Giant, larger than life balloons are very visible and provide great exposure
Large banner print area make your message highly visible
Select from stock banners or customize your own
Order multiple banners so you can add variety by changing your message
Made of heavy duty materials to withstand the elements
Banners printed with UV inks, with optional lamination for color vibrancy and stability
BANNERS: All of our balloons come with choice of our vivid digitally printed stock banners, or we will design and print custom banners for you.
Inflatable Advertising Balloon Specs:
Material: Laminated Vinyl
Blower: Internal .25 HP 110V or external 2HP
Sizes: Dimensions vary according to requests – from 8′ tall up to 32′ tall
Interested in Giant Inflatable Advertising Balloons? Use the contact form below to contact one of our sales representatives.
Godzilla Inflatable Balloon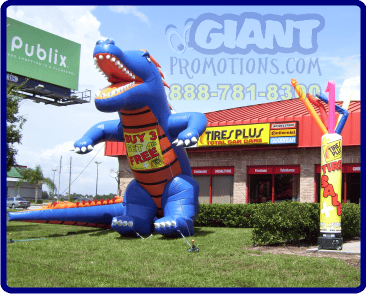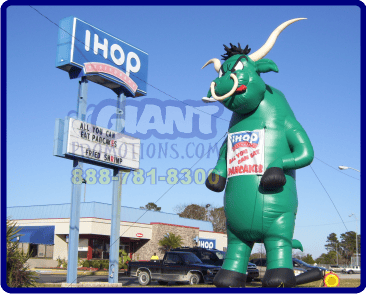 Hot Air Shape With Custom Banners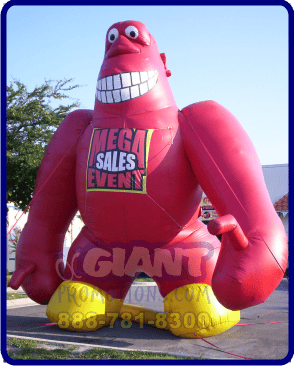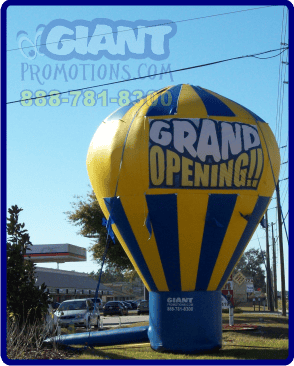 Green Alligator Inflatable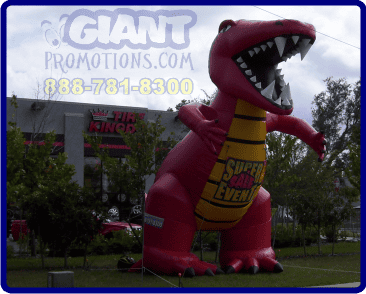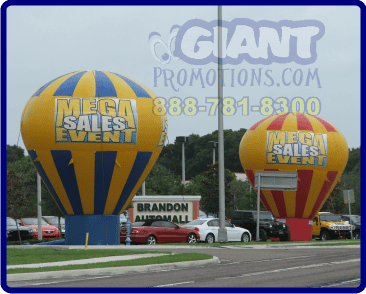 Two 28 Hot Air Shape Balloons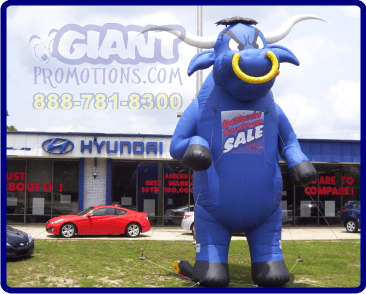 Giant Balloons: Mobile Inflatable Balloon Rental
Good advertising is defined by presenting a product or service in such a way as to make it almost impossible for potential customers to forget either the advertisement and or the product that particular ad was promoting. But the absolute best marketing will also induce those who see it to instant action, creating a need for the product or a desire to at least walk through the company's doors in order to discover more. These are the goals of all marketing campaigns and the purpose behind spending money on radio ads, flier mailings, TV commercials, roadside billboards, and custom banners. Out of all the promotional options available, there is one method that has been proven to instantly increase walk-in traffic by almost 50%. Compared to all the other marketing methods available, this method is one of, if not the most, cost-effective ideas, providing a very high ratio of return on initial investment compared to initial cost.
Giant Balloons Become Landmarks for the Local Community
Like plenty of objects in life, a balloon is entertaining, colorful, and unusual. With those advantages it has the ability to catch the fleeting attention of a passer-by. But like many other mildly stimulating and delightful objects, it can suddenly turn into a captivating and lively focal point when amplified to 100% times its traditional size. With such a change, suddenly a balloon goes from a child's play toy to a local landmark. When these giant balloons are used for outdoor marketing on a store-front the addition can turn store-fronts into landmarks practically overnight. One day the store-front is bare while the giant balloon is being ordered, and a few days later, the soon-to-be landmark is inflated and erected directly in front of the store. These inflatable ads turn into landmarks because of their size and the fact that they are hard to miss. The regulars who drive by begin to use the balloon, which is also a store-front as a measuring point of time and miles between destinations.
A Landmark Turned Advertisement: The Best Marketing in the World
A landmark is something that can't be missed, a focal point that people need to know where it is or they cannot get to other destinations. The best on-site advertising is an image that people cannot forget even if they wanted to. It is also an ad that makes it impossible to forget where it is located. This is the perk of creating a landmark that is also a marketing tool. By the very nature of the ad being attached to a landmark, regardless of the quality of the ad itself, people will have a hard time forgetting it. Of course, this is no excuse for sloppy marketing. What it creates is an opportunity for very powerful marketing. The landmark has created a location that is readily known. Now, the marketing message should be one that clearly outlines the character of the company as well as the products offered. A promotional campaign that combines both an informative message and a powerful presence is the very best kind of outdoor advertising.
Mobile Inflatable Balloon Rental:
There are many great promotional advantages to using mobile inflatable balloon rental.
Very bright grabs the attention of traffic
Mobile and light weight
High quality banners
Inter-changeable messages (you can change your message with multiple banners)
Giant Promotional Balloons and Giant Balloon Rentals:
Giant promotional balloons are great to have in front of your store. These very large balloons are sure to grab attention from customers driving down the street.
Giant balloon rentals are actually more cost effective than many TV, News paper, and radio ads.
One of the best ways to get you new business seen or when relocating try renting a balloon in Florida. Balloon rental is very cheap and cost effective. Giant, vivid, and bright guaranteed to make sure that you are seen! Florida Balloon Rental
Outdoor Advertising Balloons:
DELIVERY and INSTALLATION: Our direct service areas cover a portion of Central and North Florida. For locations not located in our delivery areas, we offer a nationwide drop-ship program.