Feather Flags Advertising
Feather flags advertising is a great low cost business marketing strategy.  These flags are easily installed, maintained, and are an extremely eye-catching outdoor marketing product.  When feather flags advertising is done right, they will put your business in your customer's mind. Feather flags advertising is economical for small business who want GREAT exposure.
Feather Flags Advertising Benefits:
Light weight and easy to install!
Extremely visible!
Heavy Duty material to stand up to the elements!
Quick Setup!
Stock or Custom Flags!

Feather Flags Advertising Sizes:
7 feet tall
9 feet tall
12 feet tall
15 feet tall
True double sided printing – message can be easily read on both sides!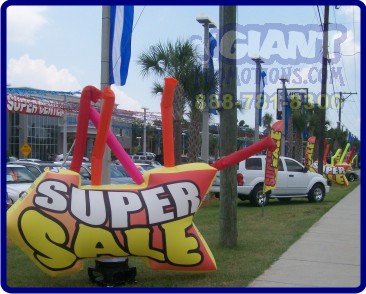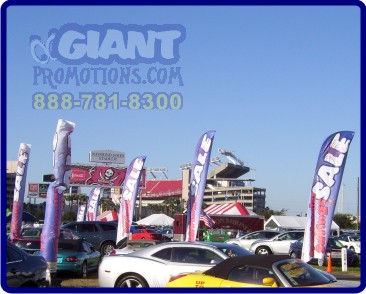 The Benefits of Using Feather Flags in Your Advertising Campaigns
Outdoor advertising campaigns are an economical and effective way to draw attention to your business. One way is to use simple and reasonably priced feather flags. Feather flags get their name from their feather-like shape.
Feather flags advertising is a cost-effective technique of drawing more customers and foot traffic. They have a curved shape that is unique to outdoor advertising components, which makes them more eye-catching than the more common square shapes. When compared to the costs of traditional signage, feather flags are a much cheaper way of branding your business, and much more flexible as well.
Feather Flags Advertising Benefits:
The flexible pole in a feather banner keeps the banner taut and visible at all times!
The ground spike that comes with a feather flag makes it simple and easy to install outdoors.
Custom colors and digitally printed graphics make them easily customizable to any advertising campaign.
They are lightweight and portable and easily install in minutes!
Using multiple feather flags in groups create a unique and attention-getting campaign.
One of the major advantages to using feather flags advertising campaigns is that you can always keep it fresh. By rotating and trying different feather flags, you can keep a new look going, with a varied rotation of different advertising flags. Since feather flags are reasonably priced, it's simple to order a series of flags and use them interchangeably or in groups, keeping the campaign updated and looking new.
Feather flags advertising campaigns are a simple, no maintenance option for outdoor advertising, and using them make it easy for business owners to obtain and use this type of outdoor advertising, with a consistently fresh look, at a reasonable cost. Feather flags work well in any type of weather and help draw customers who might otherwise have not known your business was there. Draw attention and foot traffic by using feather flags and watch your sales grow.
DELIVERY and INSTALLATION: Our direct service areas cover a portion of Central and North Florida. For locations not located in our delivery areas, we offer a nationwide drop-ship program.
Giant Promotions has great outdoor advertising products available for any business large or small – take a look at our Sale in a Box Kits! Call Us Today! 1 (888) 781-8300