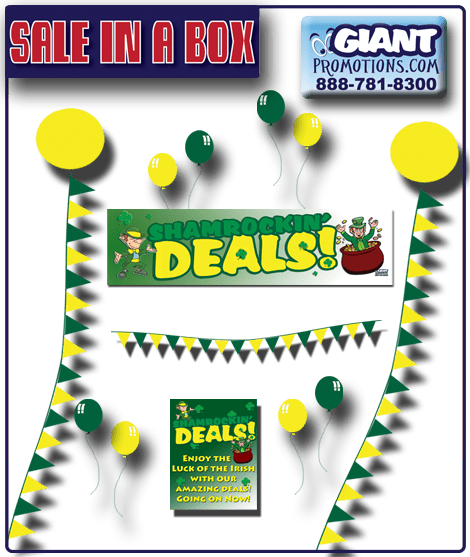 Marketing Packages
Make a phone call to us today and you can have everything you need to make your sale a success! Over the past 24 years we have worked with thousands of businesses. From concept, to production, to installation, we work with you all the way. We have a variety of themes to choose from and feature holidays, grand openings, and variety of sales. Our Sale-in-a-Box events will save you timeand money. No need to go to multiple suppliers, Giant Promotions can do it all. Our Seal-in-a-Box kit includes all you need to catch your customer's attention!
Marketing Packages Include:
120' of Pennant Streamers
2 huge 5' Cloud Buster Balloons soaring from 60' of streamer 100 16" balloons
High Quality 4' x 20' Banner 2' x 4' Poster.
Marketing Packages Product Quality:
High quality Graphics!
Professional Set-up
Multiple promotional items to choose from
Drop shipment to any location available
Packages designed to fit any budget!
All packages can be customized with your message or logo
Giant Promotions inventory control systems ensure you won't get dirty or faded, products. Giant Promotions knows that your event is important, and you expect us to give your business a great image. What sets Giant Promotions apart is our attention to details. Anyone can set up a promotion, but the details are what matters. This expertise, combined with our wide range of products and services, enables us to supply our customers with excellent promotions to meet their individual needs.
Setting up a sales event is time consuming, and the business you are in is (probably) not marketing. This is where we come in and help you to do what we do best, so you can do what you do best. Our customers have told us that they are tired of making multiple phone calls to several vendors to aquire products for a sales event, only to have the business or dealership look like a thrift store with a mish-mash of uncoordinated marketing products at their location. Giant Promotions designs and produces marketing packages for sales events. These packages are designed to attract attention, drive traffic onto your lot, and increase sales!
Marketing Packages Product Samples:
Cold Air Inflatable Balloons or Characters from 22 feet to 32 feet tall
Tents- sizes from 10×10 to 40×100
Air Dancers(sky tubes, arrow dancers, shapes, etc.)
Totem Pole Towers
Step Stake Signs
Outdoor Vinyl Banners
Pennant Streamers
Cloud Buster Balloons
Hang Tags
LED Electronic Signs (with Custom content)
DELIVERY and INSTALLATION: Our direct service areas cover a portion of Central and North Florida. For locations not located in our delivery areas, we offer a nationwide drop-ship program.
Year End Closeout
Useful for model year end and calendar year end sales!

Re-Stocking Sale 
Spectacular Savings Sale
Great for patriotic or civic holidays!
Shamrockin' Deals
Part of Giant Promotions marketing packages include feather flags – Check out our feather flags page to look into rental or purchase. Call Us Today 1 (888) 781-8300