Nationwide Balloon Rentals
Inflatable Balloon Rentals are a great solution for marketing your business or event.  Giant Promotions has the capability to provide  balloons for your marketing campaign.  Are you looking to make a great advertising campaign stand out nationwide? Nationwide balloon rentals provide an excellent marketing element in your strategy.  Our nationwide delivery and excellent customer service will help you gain the marketing exposure you want.  Inflatable balloon rentals make a landmark out of your location at a price you can afford.
Benefits of Nationwide Balloon Rentals:
Makes your business the talk of the town!
Provide you with a choice of many characters and shapes!
Customized Banners– Full color digitally printed on 10 foot wide printers!
Balloons come with stock banners, or we can print a custom banner!
NATIONWIDE DELIVERY and INSTALLATION: for our advertising balloon rentals call us with your needs, we will be happy to assist in your marketing campaign.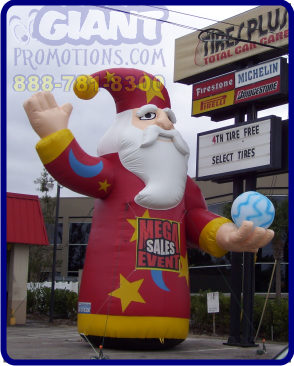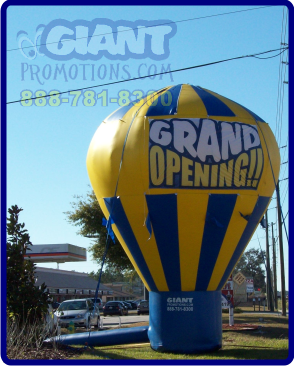 Nationwide Balloon Rental: Does it work?
Most businesses do not have a problem of too many customers. It's usually the opposite. They need to reach MORE potential customers. The problem lies in reaching them – reaching them in such a way so they will inquire, walk in, and purchase from the business. Creativity is a must in marketing, in reaching out to customers. It is seen every year leading up to the Super Bowl, with the cliche "I only watch it for the commercials". Delivering a unique advertising message is paramount, otherwise the business will be passed by, in a sea of similar businesses, with nothing standing out.
Nationwide Balloon Rental Companies Can Help
Inflatable balloon rentals are one of the best forms of advertising. Their character shapes do a great job attracting local, unreached customers. Advertising balloon rentals are a great option for seasonal sales or short-term promotions as they provide a large area that can hold a banner advertising the business and its specials. I pass dozens of billboards every day on my way to work, but I cant pick one out and state who it is advertising. But, you can probably recall the last inflatable balloon you saw, and where you saw it. Nationwide balloon rentals are provided for business owners, managers, and marketers that want their business to be at the top of thier customers minds.
Why Choose A Character Balloon Rental?
Choosing to rent a custom inflatable balloon shape may be even more beneficial to your business. Nationwide balloon rentals have quite a few options to choose from like:
Inflatable Dinosaur
Magician
Hot Air Balloons
Godzilla
Penguin
These options might not be the best option for your business. You may need a custom inflatable balloon that directly corresponds to your product/service. A giant hotair shape balloon is head-turning, but a large coffee cup (for the cafe), house (for the contractor), animal (for the veterinarian), grocery bag (for the supermarket), or whatever your business is in the business of doing, creates a greater impact on potential customers because it communicates more precisely. As sales and seasons change, the wording attached to the custom banners can change as well, while the backdrop, the iconic giant inflatable remains the same, creating continuity in a business' advertising campaign.
Nationwide Balloon Rentals: Promotional Marketing
Nationwide balloon rentals are an excellent means to promote a brand or message nationally. Inflatable balloons give great bang for the buck. As cost effective, practical outdoor promotional products, nationwide balloon rentals can be added to every marketers portfolio. Great marketing is about giving the customer a clear, helpful, concise message. It is about giving as much information through as many forms of visual communication (picture, text, color, font, etc), without them feeling overwhelmed.
Giant Promotions also has drop-ship marketing packages – check out our Sale in a Box packages. Call Us Today! 1 (888) 781-8300