Orlando Balloon Rentals
If you are marketing in Orlando, balloon rentals are an excellent choice!  Orlando is known for huge amounts of people, and what better place to use larger than life outdoor promotional items than where the people are?  O-town has a wide variety of marketing choices, but balloon rentals are still one of the most cost effective advertising means.  Also, since the city is so full of visitors, many people are not familiar with the area, and if they are only in Orlando for a short time, you have to make your business stand out. For businesses that are located in Orlando, balloon rentals make perfect sense due to their low cost advertising, with an almost immediate return on investment.
Orlando Balloon Rentals Benefits:
Easily locate them for great exposure
Durable material to withstand the elements!
Larger than life, almost everyone sees them!
Banners are interchangeable, so your message can change easily
Customized Banners give your business a professional clean cut look
Sizes from 8′ to 32′ tall!
DELIVERY and INSTALLATION: Our direct service areas cover a portion of Central and North Florida. For locations not located in our delivery areas, we offer a nationwide drop-ship program.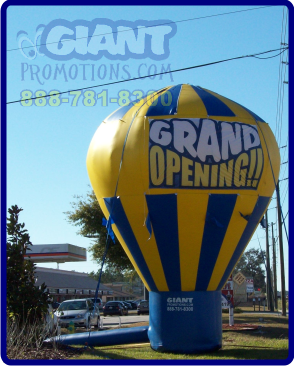 Orlando Balloon Rentals: Making the Right Decision
Choosing your business' inflatable balloon rental vendor can be a scary decision and an intimidating task. You need to be armed with more than the knowledge that this will be a good investment for the future of your business. Here are a few things to consider and to help you find the best giant inflatable balloon company for you.
Lets start with the basics that you hopefully already know. Like any business transaction and contract signing, you hope to be deal with a reputable business, preferably one that has a long and proven track record. You run your business well, and you should be able to expect the same of your potential Orlando balloon rentals vendor.
Has the company you are considering consistently put out effective designs, timely delivery, good customer service, and quality work?
Like any design process, choosing your inflatable rental balloon may take longer than you anticipate and will require work, but don't be afraid to ask for referrals or go directly to someone you know who has used them in the past. This is a big decision. You are about to put your business' marketing plan, money, and time into another business. Look for and expect to have a high return on your investment. That means investing in a high quality company.
Has this balloon rental company shown an interest in understanding and wanting to hear about your whole advertising campaign, not just their little section?
Assuming they have done this kind of thing for a many years, they should have many good insights into the advertising process while letting you fill the particulars of your niche market. Is your first and instant impression of their mock-up design and quote attractive? This does not mean you won't have a great product in the end if you're not immediately pleased, but starting out on a really good note sure does make the remaining part of the project go well, and alot faster.
Will all the necessary accessories for the final product of your giant inflatable balloon rental be provided?
Are all the required blowers, tethers, stakes, etc, provided with your rental or purchase or will you need to find these things on your own? Obviously, its nicer to have a company that provides these necessities, as they know exactly what is needed, where to get it, and how it works. In the end, you will probably feel more taken care of and there will be less to go wrong if someone has done this before and can help you along the way.
Has the person you are communicating with been with the company long and hat is their position? What resources and higher-ups do they have access to?
Their standing with the company they work for is important because they are your representative. Renting an inflatable balloon can get a lot more complicated if for some reason your representative to the balloon company is fired or quits in the middle of your working relationship. The better relationship you have with your balloon rental representative, the more likely the whole balloon rental experience will be hassle-free for you.
Giant Promotions offers a drop ship program for our Sale In A Box Packages! Call Us Today! ! (888) 781-8300