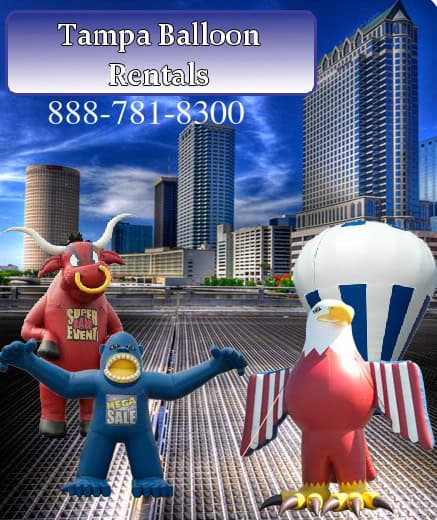 Tampa Balloon Rentals
Get your business booming in Tampa! Balloon Rentals provide businesses with almost instant return on their marketing dollar by bringing new and previous customers in their stores.  With the beautiful beaches and vast amount of water and related activities, Tampa is a huge tourist destination.  Tampa balloon rentals provide the local businesses with a great opportunity to advertise to these tourists and locals alike.  Businesses that rely heavily on tourists are abundant in Tampa.  Balloon rentals allow these businesses a low cost way to get their name in front of these tourists quickly.  For the businesses that are more reliant on the locals in Tampa, balloon rentals give businesses the added advantage of presenting new items or sales events to draw their customers in to the store.
Tampa Balloon Rentals Benefits:
Easy to locate them which means you get great exposure
Larger than life, almost everyone sees them!
Banners are interchangeable, so your message can change easily
From 8′ to 32′ tall!
Wide Format Digitally Printed banners give your business a professional clean cut look
The heavy duty material can withstand rain, wind, sun, etc.!
DELIVERY and INSTALLATION: Our direct service areas cover a portion of Central and North Florida. For locations not located in our delivery areas, we offer a nationwide drop-ship program.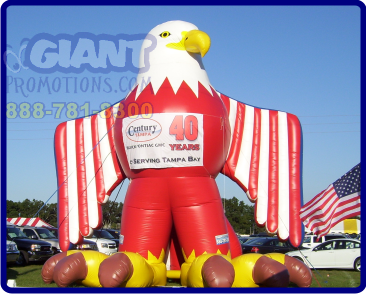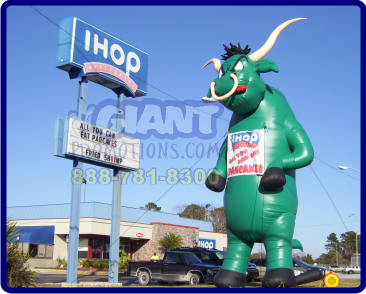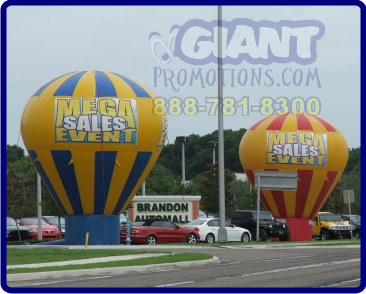 Tampa Balloon Rentals: Choosing a Reputable Company
Whether you are looking to get your very first inflatable ad, or have rented inflatable balloons before but are looking for a new vendor, here are some tips to help you find the very best. Because a giant outdoor inflatable balloon is usually the first thing a potential customer will notice about a business, it is very important that the advertisement be an accurate representation of your product or service. To get that precise, you will need a Tampa balloon rental company with an eye for detail, an understanding of marketing and the public, and a knowledge that your business is their business (for the time being). Your balloon company is selling (or renting) you a product that will help your business and have hopefully done so for many others for a very long time, but that doesn't mean they will know better than you will what you are looking for. In this relationship, you are the customer.
As you choose a reputable Tampa balloon rentals company to work with on developing your giant outdoor advertisement, here are several questions to consider.
Question One: Are you impressed with their past (and current) work?
Check your potential custom balloon rental company for pictures of what they have created in the past. Ask them for current products that are being used by other clients of theirs and then go look at them yourself. This is a very helpful way to get better idea of the size and style you want for your balloon rental.
Question Two: What do their current clients have to say about the quality of their product and their customer service?
If you find that the majority of their current clients you speak with are disappointed with your potential inflatable balloon rental company, keep looking! Any creative process like designing an inflatable will require patience, but if you hear similar complaints from many different, unsatisfied customers, then quickly scratch that potential inflatable ad company off your list and move on to the next.
Question Three: Have you seen the quality of their giant inflatable balloons and the materials they use to make them?
Look closely at their current products. Are the balloons clean? Are they patched up, or have stains? Having a patched, dirty, or stained balloon at your business tells your customers you dont care. What do their banners look like? Are they hand painted banners that look like bedsheets, or are they digitally printed and full color? Adding your logo and custom full color graphics makes your Tampa balloon rental stand out. You want to put your money towards a quality product and in the end have a giant inflatable that will give your business a great brand and image.
As you consider your marketing choices in Tampa, balloon rentals are a great addition to the marketing strategy. Just be sure you are doing your business image well, choose a reputable balloon rental company.
Why using Funny and Eye Catching Advertising Balloons to Boost Your Traffic and Sales.
An interesting and fun way to capitalize on the traffic of both locals and tourists, that are driving around Tampa and surrounding areas, is to use advertising balloons to catch their attention. Eye-catchy advertising balloons can make them come in and visit your business, where before they may have not even known you were there!
Tampa, Florida is one of the most popular vacation hotspots in the country. According to VisitTampabay.com, Hillsborough County had about 17 million visitors in 2010, which spent more than $3 billion dollars. Drawing in tourists to get a piece of those tourist dollars, may be as simple as using a Tampa balloon rental.
Tampa has many major tourist attractions such as Busch Gardens and the Tampa Lowry Park Zoo, just to name a few. Tampa is also in close proximity to many excellent beaches, restaurants, golf courses, cruises and museums. Tampa is also not too far from Orlando, which is famous for it is own attractions, so Tampa is a common spot for people to visit. The Tampa/St Pete area is a great getaway for families and singles alike, and is a popular and well-visited stop for those on the Gulf Coast.
The majority of people who travel around and through Tampa do so by auto. Almost all tourists either use their own vehicle or rent a car. The use of RVs and buses to travel is also common. The one thing that binds all auto travel together is that all this traffic makes advertising balloons an effective way to advertise your business to out-of-towners, who normally may not know your business exists. These balloons are eye-catching, and many use motion and bright colors to catch the eye of the passing motorist. Promotional offers, unique and funny balloons, and colorful characters, can add up to pulling in the passersby and boosting your sales.
The major advantage to renting these types of balloons is that you can always keep it fresh. By rotating and trying different types and shapes of balloons, you can keep a new look going, with a varied rotation of different advertising balloons. Local Tampa balloon rentals are easy to find, and many high-quality and promotional balloons are available as rentals.
An interesting type of these advertising balloons, is the giant balloon that uses the natural outdoors wind to power it and make it pop, so people passing by will notice it. They are commonly known as Air Dancers. You could also try the traditional inflated type of balloons, as they are available in giant sizes that make them noticed by all, due to their sheer size and bold designs.
Tampa has great weather all year round, which makes these balloons a good choice for outdoor advertising. Tampa has sunshine and warm weather for the majority of the time, so you don't have to worry about the balloons not being utilized every day. You have your balloon set up at your business and it does the advertising for you. Tampa's consistently good weather makes your balloons a good everyday advertising tool, and you get the most of your money by renting outdoor balloons, that can be displayed year-round.
Advertising balloons are a simple, no maintenance option for outdoor advertising, and Tampa balloon rentals make it easy for Tampa business owners to get and use this type of outdoor advertising, with a consistently fresh look, at a reasonable cost.
Giant Promotions also has feather flags – which are another great outdoor marketing product to add to your list! Call Us Today! 1 (888) 781-8300