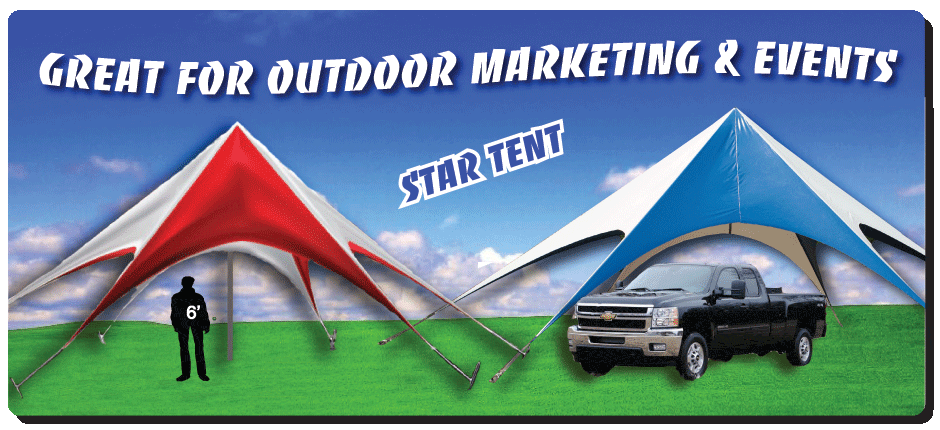 Eye-catching, dynamic and versatile! Star tents are ideal for any promotion, event, or occasion. These tents are made for frequent and repetitive long-term use. Easy to customize with full color digital printing, our designers can create a tent featuring your logo or theme.
Contact Form Shortcode Error: Form 25 does not exist
Star tents are 16′ high and 49′ wide, giving you lots of space and shade! Whether it's protection from the sun, creating a presence at an event, custom branding, a grand opening display, or all of the above- we have you covered!
Star Tents Are Perfect For:
Grand Openings
Sales Events
Outdoor Festivals Reception Tents
Corporate Sponsor Displays
Auto Dealers
Event Marketing
Trade shows
Interested in Star Tents? Use the contact form below to contact one of our sales representatives.
Increase Customers And Sales Using Star Tents In Your Advertising
Any business that would like attention-getting outdoor advertisements to pull in customers would do well with an star tent rental or purchase. Outdoor advertising is effective and reasonably priced, using tents as well as other promotional items,  so you can create an affordable and eye-catching outdoor advertising campaign.
The benefits of outdoor advertising in which tents can be an integral part of, namely an outdoor display that is highly visible to passing traffic, increases the amount of customers that are drawn to your business. At reasonable prices, an outdoor star tent can do wonders for improving the visibility of your business, while being easy on the budget. The unique design of star tents enables you to showcase items, as the sides of the tent are cut-out for easy viewing.
One of the many benefits of outdoor advertising is drawing any visiting tourists who may not know your business exists. Tourists generate increased traffic, which means a potential base of customers that can be attracted, by using an star tent. A tent, or several tents, placed on the property of a business is eye-catching and will draw in customers that other forms of advertising may not reach.
A star tent affords protection to the items and signs placed under it from the weather. Tents encourage people to browse in your outdoor sales area, while protecting them from the elements, so they browse longer. Catching your potential customers' attention and encouraging them to visit is greatly increased by using star tents. People can park and browse in a convenient outdoor star tent area that is close to the road. The increased convenience translates into increased browsers and more sales. It is then a few short steps away for them to notice the business and visit the indoor store.
Star tents  come in a variety of sizes and colors to fit the look of any type of business. Tents are available in custom and stock styles. A custom tent can have a specialized logo or custom colors. You can plan an advertising campaign and utilize the many choices available, to change the look of a business area outdoors, all at affordable prices.
Star tents, with their unique look and shape and their eye-popping graphics and colors, make tents a good choice for attracting more customers. The ability to change tents with ease adds to making tents a simple, flexible choice. The benefits of outdoor advertising using star tents in many businesses are more customers and more sales.
Star Tents Specifications:
Made of 500d Poly/PVC
Fire Retardant
UV Protection
Height: 16′ at peak
Diameter: 49′
DELIVERY and INSTALLATION: Our direct service areas cover a portion of Central and North Florida.
Giant Promotions has a wide selection of outdoor promotional products – check out our Sale In A Box Kits! Call Us Today! 1 (888) 781-8300