Truckbed
Billboards
Truckbed billboards are made to conveniently fit into the bed of a  pickup truck, but can also be used as a freestanding billboards. Simply tie them to either the truck bed tie downs, or to stakes in the ground. Extremely economical for small businesses that want great exposure. Truckbed billboards are outfitted with a quiet internal blower.
Possible Uses Include:
Trade Shows
Temporary Signage
Short Term Events
Marketing POS
Plaza Stores
Automotive Dealership Front Lines
Sporting Events
Benefits of Truck Bed Billboards:
Easy to use and transport
Light weight and compact
Sets up in minutes
Pack it away just as fast!
Fits in almost all pickup truck beds
Highly Visable – Large print area: 8'x5′
Made of heavy duty materials to withstand the elements
Custom Printed Full Color Banners are attached with grommets, change the message when you want!
Banners printed with UV inks, with optional lamination for color vibrancy and stability
Best for static display not intended for mobile use.
Truckbed Billboard Specs:
Material: Industrial vinyl w/optional lamination
Blower: .25 HP 110V
Dimensions: 11′ tall x 5′ wide x 3′ deep
Banners: 2 sides both 8′ tall x 5′ wide
Power: 110v standard outlet
How are they made?
Truckbed billboards have a small blower which inflates this display stand into an "A" shape. This provides two sides (on the right and the left side of the truck) that banners can be attached to.  As the custom printed advertisement is not a part of the inflatable, it can easily be switched out and replaced by another as the sales, seasons, and business changes and grows.
Why Use Truckbed Billboards?
These ads do need to be tied down to the truck bed itself.  This form of outdoor advertising can also be used on any other flat surface, they can also be tied to stakes in the ground or weights. Once it is tied down and inflated, a custom printed sign is easily added to each side using grommets. When put into the back of a truck, the outdoor ad can and will be seen from anywhere the truck is parked at. Some businesses use them as mobile ads at trade shows or other temporary locations. Companies also use truckbed billboards as on-site outdoor advertising in their parking lot. When taken out of the truck, these can be used anywhere there is enough space. Anywhere a truck can or wants to go, these outdoor banners will follow.  Truck bed billboards are smaller than most inflatables, these can easily fit into a show room for extra indoor marketing.
Truckbed Billboards: The Ideal Outdoor Advertisement for Car Dealerships
As the saying goes, a picture is worth a thousand words. This is why a good advertisement is so much more than just wording and why the best ads provide a complete picture of what their company is and the superior product they offer. Marketing big-ticket items can be a bit trickier than ads for traditional, shelf products. Unlike indoor, shelf products, potential customers of car dealerships do not have to pull-over, park, get out of their cars, and walk into the store to see some merchandise. Also, because vehicles are big-ticket items, most are not bought on a whim. Rather, people save a little money up, do some research online, and pick a day to walk in armed with their top choices. For these customers, it is not a matter of if they are going to shop, but only where. To this end, when a potential customer is ready, they need to know where to find a car dealership and have an idea of what they will find when they get there.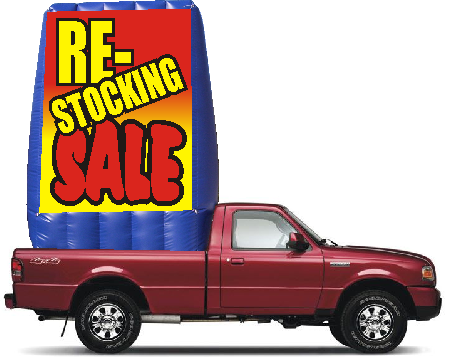 Because an automotive dealership's wares are mostly outdoors, much of the on-site advertising needs to be as well. Traditional forms of outdoor marketing have included:
Inflatable Shapes
Large Printed Signs
These promotional methods are great for drawing attention to the dealership as a whole, but what about showcasing individual vehicles? Often, these showcased cars are set up on ramps or kept inside for a cleaner, closer look. This provides a good image for an advertisement. But as mentioned, a great ad uses a combination of both images and words.
In the automobile industry, the best way to do this is with the use of truckbed billboards. These inflatables are built for outdoor use with industrial vinyl. They are made to ensure that they can withstand:
Once inflated by the small, built-in blower, an 11 foot canvas will appear in an "A" shape with two canvases, one on each side of the truck. With the use of grommets, a custom printed banner is easily attached to this outdoor advertising inflatable. This allows for the right words to be combined with the right image.
A truckbed billboard draws attention to whatever truck it is sitting in. The advantage of this type of outdoor advertisement is that it in no way detracts, distracts, or obstructs the view of the showcased vehicle. It simply compliments. The words on the custom printed sign attached to the mobile inflatable enable the information to be unique to the pickup it is being displayed from. The sparkling image of the new car with intriguing facts and good price will make it an easy choice for clients to finish their car shopping.
Truckbed Billboards: Advertising in a Plaza
The purpose of marketing is to enable a quality product to be displayed in such a way as to pique curiosity. Of course, the goal is also to have as many people as possible view the ad. The more visibility, the less each individual impression costs; as the more people view it, the higher sales go up, the less that the initial investment in the advertisement costs in proportion to the return. This means, that once a quality advertising campaign has been set up, the trick is to find a prime viewing area. Many companies turn to roadside billboards. These can be costly and make it difficult to change the message they display. Also, with roadside billboards, people are usually speeding by and don't necessarily have shopping on their minds or agenda. For new or struggling businesses the cycle of needing sales, therefore needing advertising, but needing the money to pay for that advertising, is a "catch-22". And that cycle can feel impossible to break out of. The solution is to have a highly visible ad but for a much lower initial investment. How is this possible?
Truckbed Billboards: High Visibility
The answer lies with truckbed billboards. They have high visibility for a number of reasons.
Truckbed billboards are simply installed in the bed of a pick-up truck.
The ad is eye-level with passing car and pedstriations.
Truckbed billboards don't stand high above everything like roadside billboards.
Constantly visible wherever the truck is parked!
How It Works
Parking a pick-up truck in the parking lot of a shopping plaza with an outdoor ad in the bed offers high visibility at a time when potential customers are prepared and expecting to shop. As the truckbed billboard is tied down to the vehicle, those who are meandering their car around the parking lot looking for a space and those walking from their parked cars into the store have much more time to read the billboard as they are moving at a much slower pace (compared to when they are driving down a highway). Using a parked vehicle as a display stand also means that the ad is on display for as little or as long as the truck remains parked. So if potential customers somehow missed your sign on the way into the store, they will still have a chance to see it on their way out as they walk back to their cars when they return home.
An additional advantage is that truckbed billboard advertisements are much easier and cheaper to change. The only requirements are to untie the existing two signs and re-tie new, custom printed banners in their place. This creates a whole new ad for a fraction of the cost.
DELIVERY and INSTALLATION: Our direct service areas cover a portion of Central and North Florida. For locations not located in our delivery areas, we offer a nationwide drop-ship program.
Giant Promotions has a wide selection of outdoor advertising products – be sure to check out our feather flags to use in addition to a truckbed billboard! Call Us Today – 1 (888) 781-8300