Tampa Tent Rental
Holding an outoor event in Tampa can be a questionable venture given the quick and drastic climate changes that the area is noted for. This is especially true in the summer time, when thunderstorms can form in a matter of minutes. If the event coordinator has planned correctly for an outdoor event in Tampa, tent rental was a top priority on the list! During other times of the year the sun can be a deterant for event participants.
Also, for business owners in Tampa, tent rentals provide covering for products during a sale or event. Providing cover for your products keeps your inventory dry and clean, as well as providing shelter from the sun for the customers. Everybody likes to shop in comfort, so if you are a business owner in Tampa, tent rental is a great marketing product.
Tampa Tent Rental Custom Tent Tops:
We are able to cutom print on site! So, if you are in the need of a custom print tent top let us know. All prints are of the highest quality digital printing and we print on the very best material.
We also offer:
DELIVERY and INSTALLATION: Our direct service areas cover a portion of Central and North Florida. For locations not located in our delivery areas, we offer a nationwide drop-ship program.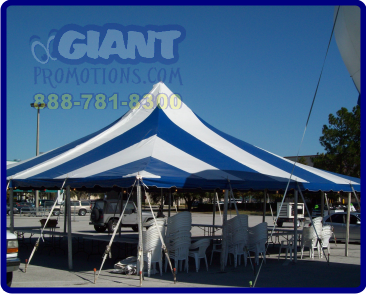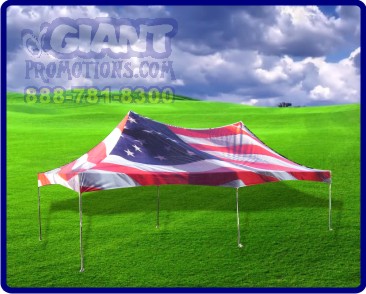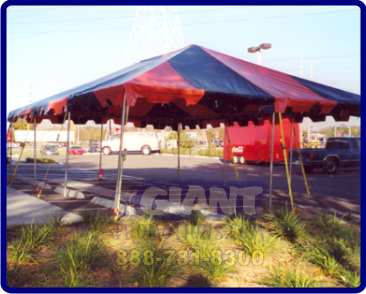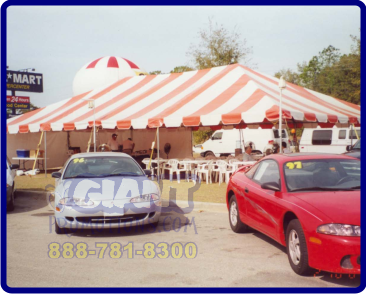 Tampa Tent Rental: Why go graphic?
With Florida's high tourist population and year-long mild weather, it is the ideal place for creative advertising outdoors. Particularly during the spring break and summer tourist season months, or during the holiday shopping rush, outdoor advertising means your business will reach those who aren't inside watching the television, don't receive the morning paper, and don't even bother looking at their junk mail. As Florida never snows and has a large percentage of its population outdoors during the summer, what better way to get your company noticed? Tampa tent rental outdoor advertisements will not only catch people's attention, but also instantly inform them of where you are located and what product or service your business offers.
A Tampa Tent Rental is Inviting, Offering Relief
In the summer heat, fall rains, and winter winds, one of the best options for outdoor advertising in Florida is by using a party tent.  In the middle of all that clutter and advertising over-load, putting a face on your company will make your business stand out. Just ask those potential customer in Tampa, tent rentals are inviting to those walking by, especially as a temporary relief from the elements. A smiling, friendly face, offering water and some shade is a much better Florida marketing tool than anything an ad agency could ever hope to offer.
Tampa Tent Rental Show Passersby Where to Look
With a custom printed top for your tent rental potential customer's eyes are drawn upward, above the crowd, to the name of your business and its location. This means people see it from a greater distance and can always read it, no matter how crowded the walkway in front of your store gets.
Custom Printing = Mobile Storefront
While there are tent rentals and stock tent tops, another option is to have a tent rental made with a custom printed top. Custom printing allows you to move the tent (such as to a corporate event, trade show, or other exhibit) but still be used as a promotional and branding tool. A tent rental that has custom printing "kills two birds with one stone", actually, three birds. As already mentioned it serves as an inviting place of rest to potential customers, works as a banner or sign advertising your business for Florida marketing, and it also works as a mobile storefront.
Giant Promotions also air dancers which are a great outdoor promotional product to use along side of a tent! Call Us Today! 1 (888) 781-8300